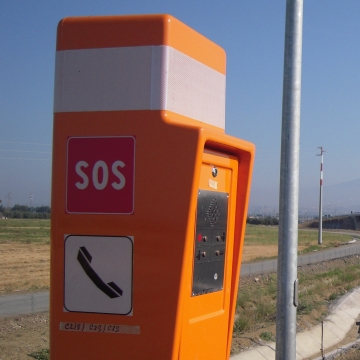 We have produced many emergency telephone points over the past 20 years. We operate indiscriminately in all environments where the installation of emergency telephone points is often required: roads and highways, railways, public parks, urban areas, stations and subways, industrial areas, cycle paths, isolated mountain areas.
In our rich catalog you will find columns of all sizes, in stainless steel or fiberglass (polyester reinforced with glass).
In the project phases, we take into consideration the most recent regulations applicable at European and American level.
ROADCALL® TLB560 is a Glass-Reinforced-Polyester (GRP) pillar designed for installation along Roads & Motorways. GRP is a very robust material, with high mechanical resistance jointed to a very long life when exposed to hard weather conditions, including marine salt atmospheres. It is normally supplied in orange RAL2003 color, but it can be manufactured in any color on demand. Its simple design, without sharp edges, responds to the European Safety Recommendations and to the main safety rules in the whole world.
The front pivoting plate, is designed to receive any Emergency & Service telephone series STEELVOX®, including a very wide range of different models. The front plate with integrated telephone can be substituted in less than a minute, reducing the presence of maintenance personnel in site during reparations. The lower pivoting plate, is the access to the cable terminals and auxiliary accessories area. This space is suitable for containing auxiliary circuits and devices (switches, power suppliers, terminals, batteries, etc.).
ROADCALL® can be equipped with flashing lamps (LED or Xenon) on the front and on the rear side, powered by telephone line ore by auxiliary voltage 12Vdc or 230Vac. It is normally equipped with symbols and pictograms accordingly to the customer specification and/or to the local National rules. It can be associated with a solar-panel, to enable installation in rural areas where traditional power-sources are not available. All the emergency telephones series STEELVOX® are available to work through the main existing telecom networks, including PSTN (Analogue), VoIP (SIP), and GSM.